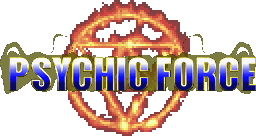 Welcome to the Psychic Force Wiki!
A wiki about Taito's Psychic Force series that anyone can edit!
Psychic Force is a series of fighting games developed by Taito, with the first game releasing in 1996 for Arcades. The story focuses on the Psychiccers, a group of people with psychic abilities, and the conflict between various groups with their involvement. The games are one-on-one fighting games, with battles fought inside of three-dimensional cubic grids where players can freely move in any direction.